Veterans Memorial Park Master Plan
October 2015
BACKGROUND

The Veterans Park Master Plan is a planning and design tool whose purpose is to guide and bring consensus to the design of the space with respect to the memorial landscape.

Veterans Park is in the heart of Stamford's downtown commercial district and is bordered by the Landmark Square office complex, a busy bus stop, the old First County Bank building and the Stamford Town Center. Significant war monuments had been dispersed throughout the park to honor Stamford's veterans, but the poor placement of the monuments has allowed the memorial aspect of the park to be overlooked in the bustle of the urban setting. The random arrangement of the monuments, trees, and hardscape hindered the space from having large events and created hiding places throughout the park, compromising security. A feeling of disconnectedness, lack of meaningful park use, and crime activity brought together members of the community, local business leaders, and veterans forming an ad-hoc committee with a common goal of improving the park.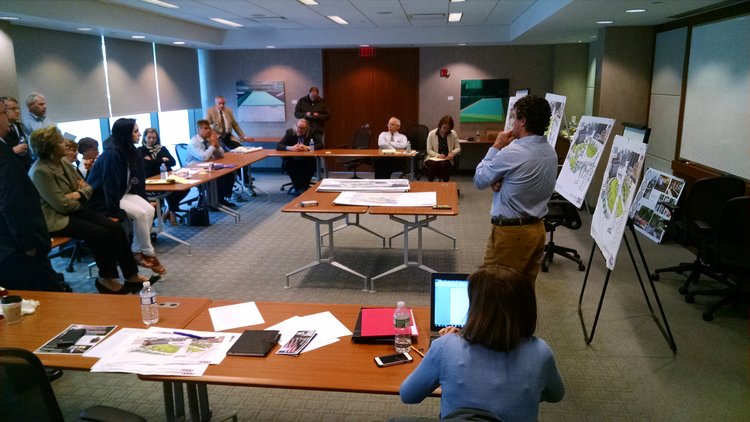 The Master Plan was consciously formed to help meet the goals put forth by the committee:
Celebrate and honor veterans in a more comprehensive way
Serve as a public meeting place
Be a primary link for east-west connection through the downtown
Continue to serve as an integral hub for bus travel
Become a venue for community-oriented events
Become an entryway to the mall and offices
Within these goals, the Master Plan was designed to create an engaging urban park to meet the needs of the veteran community, the growing downtown population, and the surrounding office and retail uses of the park.