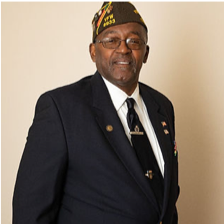 Leonard "Lenny" Hunter
Sergeant E-5, SP-5, U.S. Army
Born: October 26, 1948
Years Served:
December 1967 to August 1970
Vietnam War
Medals and Awards:
| | |
| --- | --- |
| Good Conduct Medal | |
| Vietnam Service Medal w/1 Silver Star | |
| Republic of Vietnam Campaign Medal | |
| National Defense Service Medal | |
Biography
Leonard, one of eleven children, was born in Stamford, Connecticut in 1948 to MaeBell (Jamison) and William Hunter, Sr. Lenny and his siblings grew up on Spruce Street on Stamford's West Side. Lenny attended Stevens Elementary, Rogers Junior High, and Stamford High School before joining the U.S. Army on June 23, 1967. Since he was only 17 at the time, his brother Randy had to sign him up because he knew his mother, now having all of her sons in service, would not have allowed it. 
Shipped to Vietnam in 1968 with the 578 Signal Company, Lenny spent most of his days stringing communications wire in the jungles by climbing poles that sometimes tapered to the width of a baseball bat, all the while being exposed to enemy fire. During his time in service, he did not want to miss an opportunity to see his brothers so he traveled, safely, to Ouy Nhon near the end of his tour. 
Lenny spent his career working for the U.S. Postal Service in Darien, retiring after 37 years. Still active in veterans' affairs, he is Post Commander at the Darien VFW and volunteers at the Bridgeport Veterans' Food Pantry. He and his wife Mary, have four children, fourteen grandchildren and seven great grandchildren. 
Download Factsheet