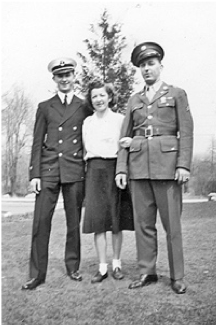 Edmund F. Kulka
Ensign, (A1), C, USNR, U.S. Naval Aviator
United States Navy
Born: August 4, 1921
Passed: March 14, 1946 – Declared Dead While Missing
Years Served:
1942 to 1946 – WW II American Campaign
Medals and Awards:
| | |
| --- | --- |
| Purple Heart | |
| American Area Campaign Medal | |
| World War II Victory Medal | |
| Naval Aviator Wings | |
Biography
Ensign Edmund F. Kulka, the youngest of the Kulka brothers, born to Frank and Francis Kulka of Seaside Avenue, Stamford, Connecticut on August 4, 1921. After graduating from Stamford High School and Pace Institute, and while working in the accounting department for American Cyanamid in New York City, Edmund enlisted in the U.S. Navy in March 1942 at the age of 21. He trained as a U.S. Naval Aviator.
Upon completing officer training and receiving the commission of a U.S. Navy Ensign, Kulka was sent to several schools in the United States, most notably: Rensaelear Poly Tech, University of Arizona, and St. Mary's in Texas. After completing basic and advanced flight training at Jackson, Florida NAS and in Norman, Oklahoma, Kulka was awarded the Gold Wings of a Naval Aviator at Corpus Christi, Texas NAS on November 15, 1944.
Ensign Kulka was then assigned to the active duty naval Air Squadron VB75, a dive bomber squadron to pilot the Curtis SB2C Helldiver known to its pilots as "The Beast" due to its size and heavy handling characteristics. The VB75 Squadron was then assigned to Chincoteague, Virginia NAS on Virginias Eastern shore. It was during this time in Ensign Kulka's brief naval career that he was handpicked to be part of a flight crew assigned to the new Coral Sea class aircraft carrier, the USS Franklin D. Roosevelt (FDR). The plane was named in honor of President Roosevelt who had recently passed. One pilot from each state in the union was selected for this honor; Ensign Kulka represented Connecticut.
The USS Franklin D. Roosevelt was returning from its inaugural shakedown cruise to South America in the Caribbean Sea in the vicinity of Puerto Rico and Cuba. The VB75 Squadron had just completed an air show for then President of Cuba while on a goodwill tour, and the ship was headed home. While flying in formation at 10,000 feet with U.S. Navy Torpedo man John Franklin Malone, Jr. of Scranton, Pennsylvania (who was aboard to qualify for flight pay) Ensign Kulak's SB2C Helldiver's vertical stabilizer (tail assembly) disengaged while going into the dive. Without proper flight controls, Ensign Kulka could not recover normal flight operations and the plane crashed; both Ensign Kulka and the torpedoman's mate, Malone, were declared to be lost at sea by the U.S. Navy on March 14, 1946.
Download Factsheet