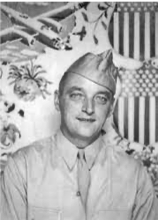 Joseph T. Kulka
Quarter Master Corps, United States Army
Born: March 17, 1913
Passed: 1965
Years Served:
1945 to 1946 – Asian Pacific Theater
Drafted from Stamford in March 1945 at the age of 32
Medals and Awards:
| | |
| --- | --- |
| American Campaign Medal | |
| WWII Victory Medal | |
| Good Conduct Medal | |
| Air Force Pacific Campaign Medal | |
| Tec/5 | |
Biography
Technical/5th Grade Joseph T. Kulka was born in Stamford on March 17, 1913 to Frank and Francis Kulka of Seaside Avenue, Stamford, Connecticut. After graduating from Stamford High School, Joseph worked as a bookbinder for Conde Nast Publications in Stamford. Drafted in 1945, Tech/5 Kulka went through his basic and advanced training, and was assigned to the 54th Quarter Master Salvage Repair Platoon of the U.S. Army Quartermaster Corps and was shipped out to the South Pacific Theater of Operations for duty in Leyte, Philippine Islands.
While in Leyte, Kulka was charged with the supervision of more than 100 Japanese prisoners and local laborers working in equipment salvage, equipment cannibalization, and shoe repair in order to return equipment and clothing items back to using units.
Upon the untimely death of his brother, U.S. Navy Ensign Edmond F. Kulka in a U.S. Navy SB2C Curtis Helldiver crash, T/5 Kulka was given a compassionate discharge from the U.S. Army to return home under the newly created Sullivan Brothers Act.
Once home, Kulka secured a position as an estimator for the New Canaan Fuel and Lumber Company in New Canaan, Connecticut. Over the years, he rose through the ranks to become Vice President or the organization until his untimely death in 1965.
Mr. Kulka was married to the former Helen Fenick of New Canaan, they had a daughter, Marion Kulka.
Download Factsheet