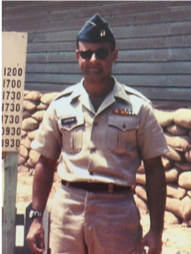 Norman Lotstein
Captain, United States Army
Born: November 11, 1941
Years Served:
1966 to 1968 – American Theatre and Vietnam
Entered the service at 25 after college ROTC
Medals and Awards:
| | |
| --- | --- |
| Vietnam Service Medal | |
| Vietnam Campaign Medal with Device | |
| National Defense Service Medal | |
| Army Commendation Medal | |
| Bronze Star | |
Biography
Lotstein planned to join the family business after his service. When he enlisted, he requested his assignment be in food services. The Army was extraordinarily accommodating and when at Fort Lewis, Washington, he was assigned to the General's staff, G-4, as the Food Advisor responsible for the feeding of 10,000+ soldiers on the base. In Vietnam, Lotstein was assigned to the First Logistical Command and given the assignment working for both the United States Army and the United States Agency for International Development with the task of fostering the Vietnamese produce industry with the purpose of developing produce as a major export item for the country to generate foreign currency. Lotstein was responsible for purchasing 40 tons of produce daily for consumption by the allied forces. Lotstein remains eternally grateful to the United States Army for literally going out of their way to address his request giving him challenging and rewarding positions in the field of his choice.
Download Factsheet