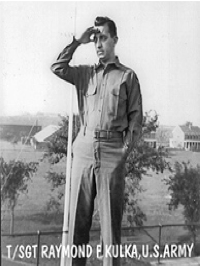 Raymond F. Kulka
Technical Sergeant E-7, Signal Section Chief
United States Army Artillery
Born: August 14, 1915
Passed: November 26, 1998
Years Served:
1939 to 1945 – American and European Theater
Medals and Awards:
| | |
| --- | --- |
| Expert Rifle/Pistol Badge | |
| Good Conduct Medal | |
| World War II Victory Medal | |
| Bronze Stars – 3 | |
| Africa/Middle East Medal | |
| European Campaign Medal | |
| American Defense Medal | |
Biography
Technical Sergeant Raymond F. Kulka was born in Stamford on August 14, 1915 to the late Frank and Francis Kulka of Seaside Avenue, Stamford, Connecticut. After graduating from Stamford High School, Kulka went to RCA radio school in Cleveland, Ohio and upon graduation secured a position with the Schick Razor Company.
Called up in the 1939 draft by the U.S. Army, Kulka was in processed at Fort Devens, Massachusetts and was assigned to Battery F, 9th U.S. Army Coast Artillery at FT Warren, Massachusetts, an island fort located just outside Boston Harbor. Here he was responsible for the signals and communication involved in the operation of the submarine nets used for harbor defense. It was during this period, Kulka was promoted to Corporal.
After the attack on Pearl Harbor and American's entry into World War II, Corporal Kulka transferred to Fort Hood Texas and trained to be the Communications Chief for a modernized 1155mm towed artillery battalion. Upon completion of his training, he was transferred overseas to England and the European Theatre of Operations, where he trained for the D-Day invasion. Corporal Kulka landed on Utah Beach on D-Day +5. Now a Technical Sergeant with the 548th Field Artillery Battalion (155mm Towed) of the Fifth Infantry Division, Kulka took part in the Battle of the Bulge, the Central Germany Campaign in the Rhine and Ruhr Valleys, and was one of the first units to cross the Elbe River to rendezvous with the Russian Army. His unit went on to Czechoslovakia prior to being sent home.
While in Germany, Technical Sergeant Kulka's, unit along with other units of General George Patton's Third U.S. Army, was sent to liberate the Nazi concentration camps of Dachau, Bergen Belsen, and other political prisoner camps operated by the Germans.
After 6 years of service, Technical Sergeant Kulka returned home and resumed his career at Schick Shaver. In the following years, he became a proprietor of Schick Shaver and Shavers World on Bedford Street in Stamford. He was married to the former Adele Struzik of Stamford and is survived by one son Raymond F. Kulka Sr., a retired bank executive and a veteran of the Cold War and Vietnam era. Kulka lived 83 years in Stamford, Connecticut and died on November 26, 1998, and along with his wife, is interred in St. John Cemetery in Springdale, Connecticut.
Download Factsheet